CHAK NCD programme activities and achievements over the last 12 months
The CHAK NCDs Program has intervened in two disease areas over the last one year, i.e., diabetes and hypertension. This has been through 3three projects namely:
Base of the Pyramid (BoP) project funded by Novo Nordisk.
Familia Nawiri (Healthy Families) project funded by Novartis Social Business.
Bread for the World (Brot für die Welt) project
Program coverage and objectives
The three CHAK NCD projects were implemented across 110 health facilities (77 CHAK member health units and 33 county government hospitals) in 32 counties of Kenya. The objectives of the CHAK NCD program were:
Create awareness of and risk factors associated with diabetes and hypertension in the community.
Promote screening for diabetes and hypertension at community level, improve screening in health facilities and create effective linkages for those with abnormal results.
Capacity building for the health system (community, health care providers, physical infrastructure - equipment) in order to improve quality of care and treatment of diabetes and hypertension.
Access to timely, uninterrupted supply of high-quality affordable diabetes and hypertension medication.
Improve county and national health management information system (MIS) for monitoring and evaluation (M&E) at facility and community levels for diabetes and hypertension.
Base of the Pyramid (BOP) project
The BoP project was implemented in collaboration with Novo Nordisk Limited in 39 CHAK MHUs across 12 counties to address gaps among health care workers in management of diabetes and contribute to the development of an in-service diabetes curriculum for primary health care workers.
Addressing knowledge gaps in diabetes management among health care workers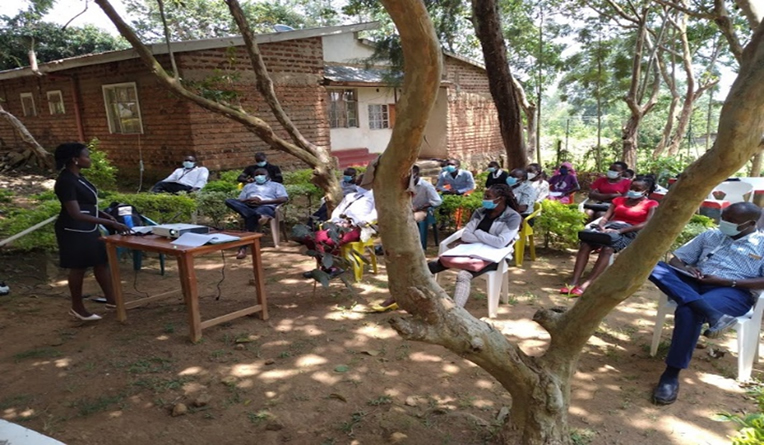 Health workers undergoing training an insulin therapy while maintaining social distance.
To address gaps in knowledge in management of diabetes, 61 health care workers were taken through a day's training on insulin therapy. Another 141 health care workers were given updates in diabetes care and COVID 19 through continuous medical education (CME) sessions. All capacity building sessions were conducted in CHAK member health units (MHUs) to facilitate practicum sessions.
Ensuring access to affordable insulin
Thereafter, 39 CHAK MHUs benefitted from support supervision. All the MHUs were offering screening and diagnosis for diabetes, 95 per cent (37/39) stock insulin with 72 per cent (28/39) having insulin stocks on the day of supervision. The CHAK MHUs all offer insulin to patients at the recommended BoP retail price of Ksh500 (~USD 5) to ensure patients access insulin at an affordable cost.
Development of in-service diabetes curriculum for primary health care workers
The BoP project supported development of the first in-service diabetes curriculum for primary health care workers based on the 2nd Edition 2018 Kenya National Clinical Guidelines for the Management of Diabetes Mellitus. Development of the curriculum is spearheaded by Ministry of Health - Division of NCDs in collaboration with Kenya Medical Training College (KMTC), CHAK and other partners.
Familia Nawiri (Healthy Families) project
Familia Nawiri (Healthy Families) project, an initiative of Novartis Social Business, was implemented by CHAK in two counties, Kakamega and Nyeri, in a total of 46 health facilities mostly level 2 and 3.
The project addressed interventions in hypertension and diabetes.
Collaboration with County health teams
To enhance linkages and partnerships with the counties, CHAK held several meetings with the county health management teams in Kakamega and Nyeri and partnered with them to monitor project implementation through joint support supervision and routine data quality audits at the facilities.
Education and awareness on diabetes and hypertension
The project supported printing of job aids and banners for health education sessions. In 2020, a total of 79 information, education and communication materials were developed, printed and distributed to health facilities.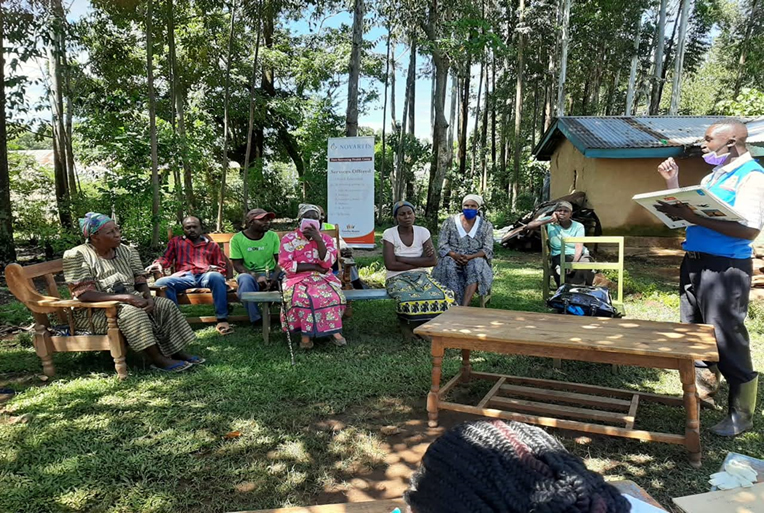 Small group education session on hypertension and diabetes conducted by a CHV in Shinyalu, Kakamega County.
A total of 41,453 community members were educated on hypertension and diabetes through 425 community events including large congregation sessions, small group sessions and outreach camps.
Diabetes and hypertension screening
The project donated 15,150 glucose test strips to support screening for diabetes. Through 192 screening camps, 16,442 persons were screened for diabetes revealing a prevalence of 3.5 per cent (573) of hyperglycemia and 1,232 (7.5 per cent) of impaired glucose tolerance/pre-diabetes which are both higher than the national prevalence.
A total of 26,930 persons were screened for hypertension revealing a prevalence of 24 per cent (6,502) of elevated blood pressure, comparable to the national prevalence and 21.5 per cent (5,788) of pre-hypertension.
Bread for the World (Brot Für Die Welt) Project
The 3-year (2020 – 2022) goal of the Bread for the World project is to build the capacity of 100 CHAK MHUs at primary healthcare level (Level 2 & 3) on diabetes and hypertension. Each year, needy sites are identified as intervention sites. In 2020, 30 CHAK MHUs across 20 counties were identified.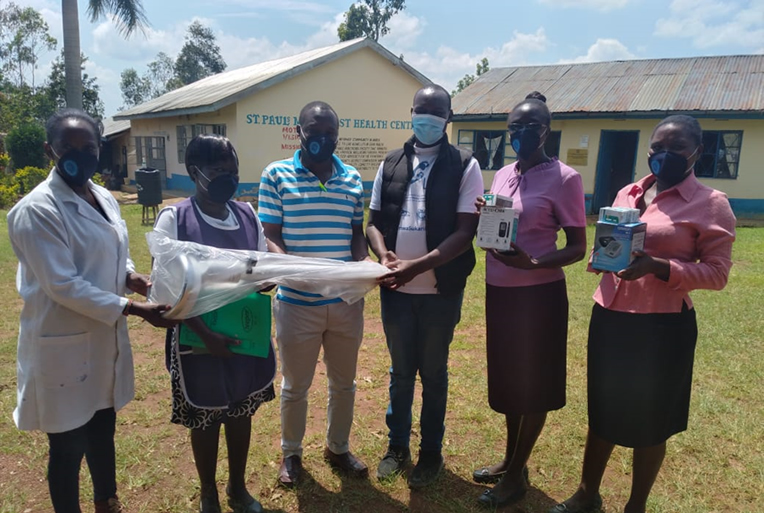 Staff at St. Paul's Ugunja Health Centre in Siaya receiving a blood pressure monitor, glucose meter and test strips and combined height and weight scale.
A total of 63 clinical staff were taken through a three-day training on hypertension. The selected CHAK MHUs were supported with digital blood pressure monitors for hypertension screening. A total of 58 monitors were donated.
To support the sites to screen for diabetes, 33 glucose meters and 4,350 glucose test strips were donated. Further, 30 combined weight/height scales were donated to aid in screening for overweight and obesity. Additionally, 300 lab coats were donated to support the infection prevention control (IPC) for health workers in the sites.