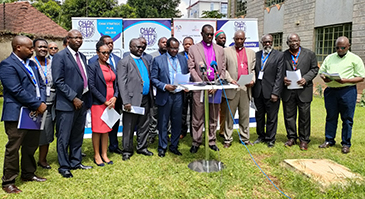 Topic: Health care Financing for faith based health facilities for sustainability
Event: CHAK Annual Health Conference & AGM
Venue: AACC, Desmond Tutu Guest House & Conference Centre, Waiyaki Way, Westlands, Nairobi.
Date: April 27, 2023
Time: 10.00am
Dear members of the fourth estate,
It is my pleasure to welcome you all to this briefing. Thank you for joining us as we celebrate the great collaboration, support, and partnership that we have as the CHAK network that has led to remarkable progress in our health facilities, medical training institutions and health programs. With the Church and our religious leaders at the helm, we have reached great milestones.
Before I proceed, ladies and gentlemen, allow me to share with you a brief about the Christian Health Association of Kenya (CHAK).
CHAK is a national faith-based organization of the Protestant Churches' health institutions and programs from all of Kenya which was established in 1946. CHAK is dedicated to promoting universal access to quality health care. The mission of the organization is to facilitate provision of quality health services through health systems strengthening, innovative health programs, training, advocacy, and partnerships as a witness to the healing ministry of Christ.
CHAK has launched a new Strategic Plan 2023 - 2028 whose theme is: "Promoting access to quality health services delivered through resilient health systems". The vision is "Quality healthcare for all to the glory of God". The strategic objectives towards building resilience for quality health services are:
a) Health service delivery
b) Health systems strengthening
c) Advocacy, partnerships and networking
d) Sustainable financing and resource management
e) Strategic information management
f) Branding, marketing and communication
About the CHAK Annual Health Conference
The theme of this year's conference is 'Health care financing'. The conference will discuss Universal Health Coverage, health care financing strategies, best practices and lessons learned. The forum will provide stakeholders with an opportunity to debate issues, challenges and solutions around health care financing, share experiences and bring their personal contributions on the subject. The conference brings together, among others, CHAK member health units from Level 5 to Level 1 from all over the country, who are keen to achieve sustainability of health care services.
We wish to reiterate the commitment and investment of Faith Based Organizations (FBOs) in health as we drive the health agenda for the people of Kenya.
According to the Kenya Demographic and Health Survey, about 40 per cent of health care services are provided by FBOs and over 95 per cent of Kenya's population ascribes to a religious affiliation. The FBOs have demonstrated long-term commitment and gained trust from local communities. The faith sector provides spiritual counsel and support, and in some parts of the country is the only or main provider of primary health care at the grassroots in line with the healing ministry of Jesus Christ.
As FBOs, we are committed to being in the frontline in championing Universal Health Coverage, leaving no-one behind, to achieve a bottom-up health delivery model.
CHAK Partnership with Government of Kenya
As we partner with the Government towards achievement of Universal health coverage (UHC), the CHAK network will continue to offer services to indigents at the most affordable rates. CHAK will also continue to champion services in emerging areas like mental health, rehabilitation for drug and substance abuse and support to gender based violence survivors.
CHAK health facilities cashflow difficulties due to NHIF reimbursement delays
The CHAK members have large pending claims for services already given in 126 health facilities, estimated at Ksh2 billion under NHIF and the CIC insurance consortium. (The CIC network is a group of insurers that cover Kenya police, Kenya Prisons and Teachers Service Commission). In the last six months, less than 30 per cent of claims from these key insurers have being reimbursed. CHAK health care facilities are experiencing cash flow difficulties as a result as they are unable to pay health workers, suppliers and meet basic operational costs.
CHAK is making an appeal that these schemes are immediately resourced with cashflow and premium payments by the relevant parent ministries and commissions, so that the insurers can meet their obligations. We also appeal that the NHIF and CIC consortium urgently make arrangements to pay all pending claims in CHAK health facilities in the next 14 days. The key insurers are encouraged to engage stakeholders and resolve this critical cashflow stalemate without delay.
Current trends: Faith healing agenda
Ladies and gentlemen, allow me to mention a few things in view of the horror that we have witnessed in Kilifi County over the last four days.
As faith-based organizations, we believe that all Kenyans should visit accredited hospitals whenever they fall sick. Our vision is to offer Quality Healthcare for all to the glory of God and our mission is to engage communities to empower them to seek and access quality health care.
We discourage any group or individual from preaching against access to health care. We encourage Kenyans to ignore theories of faith healing that tend to ignore science.
We call upon the public to remain alert and on the look out for individuals and groups that seek to brainwash them. We believe that religion must not be used as cover by people wishing to perpetuate retrogressive myths and misconceptions that will make our people perish.
We send prayers of consolation to the Shakahola families that have been tragically affected by controversial teachings and radicalized religious beliefs, and call upon relevant government agencies to intervene and bring the culprits to book.
We have always counted on the media to help us highlight the health plight of Kenyans and advocate for quality health care for all to the glory of God.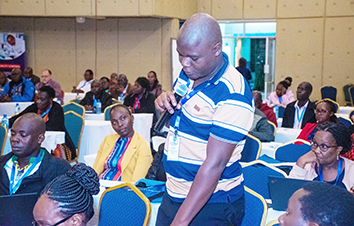 The CHAK 2023 Annual Health Conference and Annual General Meeting was held on April 25-27 in Nairobi. The Annual Health Conference brought together CHAK member health units from around Kenya to deliberate on the critical topic of health care financing.
The Annual Health Conference had the theme "Healthcare financing; will faith-based health facilities attain sustainability?"
On the wings of the Annual Health Conference, CHAK hosted several media houses in a press briefing in which an appeal was made to NHIF and the CIC insurance consortium to pay member health units' dues in 14 days. CHAK member health facilities have been experiencing cash flow difficulties as a result of the over Ksh2 billion they are owed by the health insurance firms.
Launch of the CHAK Strategic Plan 2023-2028
CHAK Trustees launched the organisation's new Strategic Plan 2023 – 2028 in a colourful and joyful ceremony.
The launch of the CHAK Strategic Plan 2023-2028 marked the beginning of a new six-year growth journey for the organization. The new plan with the theme Promoting universal access to quality health care in Kenya delivered through a resilient health system has six strategic focus areas as follows:
Health systems strengthening
Advocacy, partnerships and networking
Sustainable financing and resource management
Strategic information management
Branding, marketing and communication
Annual Health conference
During the conference, several CHAK member health facilities shared their experiences on the journey towards achieving sustainability.
Maua Methodist hospital made a presentation on optimizing cashflow. Cashflow is the flow of money into and out of an institution in all its forms. The presentation focused on potential cashflow risks and leakages. AIC Litein Hospital gave the conference participants an overview of its journey towards building partnerships for expansion of health services. Through partnerships, the hospital has been able to introduce new services and expand infrastructure.
Africa Healthcare Network (AHN) gave an overview of its partnership with CHAK hospitals in providing best-in-class dialysis care at an affordable cost. The firm has partnered with several CHAK member health units to offer dialysis services in an outsourcing model. Other partners who made presentations at the forum were KCB, MBF and UNUMED, which offers software solutions for health facilities. MEDS in its presentation thanked CHAK member units for their support over the year 2022, and rallied the network to make more drugs and medical commodities purchases in 2023.
Dr Francis Kimani made a presentation on effectiveness of hospital supervision on the quality of healthcare services in Kenya. The presentation was based on findings of a study carried out in 25 hospitals in Central Kenya. Among other conclusions, the study found that daily supervision was associated with an increase in the overall satisfaction of patients with in/outpatient services. A key recommendation of the study was policies to ensure that three top hospital managers, such as the medical superintendent, nursing officer-in-charge, and hospital administrator be housed and reside within the hospital compound to provide close supervision to staff.
Dr Muthoni Magayu from MBF challenged CHAK member facilities not to forget the original purpose of the medical ministry, reaching people for Christ, in a presentation that focused on integrating spiritual ministry into health services.
Annual General Meeting
During the AGM held on April 27, 2023, Joel Jamhuri, CEO of PCEA Kikuyu Hospital, was elected to the CHAK Board as the new Chairman for Central/Nairobi/South East/Coast Region to replace Joseph Leo who relocated to US for further studies. Chairman Rt. Rev. Charles Asilutwa, Vice Chair James Maina, Treasurer Christine Kimotho, Vice Treasurer George Opundo, Eastern/North Eastern region Chair Rev. Samson Musyimi and Nyanza/South Rift region Chair Mr. Eric Langat were re-elected to serve a second two-year term.
Additionally, the AGM had the opportunity to express gratitude and bid farewell to long-serving CHAK Management Team member, Dr Patrick Kundu, and long serving member of the Board Finance Sub Committee Jacob Onyango.
The AGM was told that the Association's net asset value recorded an increase of Ksh45.9 million to close at Ksh357.68 million in 2022. The Board also reported that the lease for the land on which CHAK offices stand had been renewed after a long period of waiting and prayer.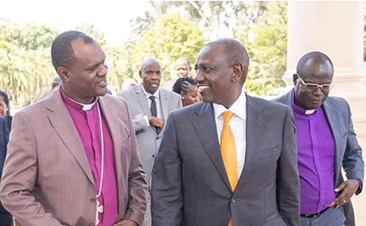 The government has pledged to work with religious institutions to deliver efficient and cost-effective health services as well as relevant education.
Speaking during a meeting with faith leaders at State House Nairobi, President William Ruto noted that religious institutions provide 40 per cent healthcare in Kenya and must be core in the Government plan and roll out of the Universal Health Care programme.
CHAK coordinated the successful partnership engagement with President Ruto during with education and health matters were discussed. A Memorandum on Health which highlighted areas of partnership strengthening and challenges that required Government support was presented.
The President, supported by CS Health, DG Health and Chairman of NHIF Board, responded to requests presented by the faith leaders. Education issues were responded to with the support of CS-Education.
Delayed NHIF payments and inadequate service package rates were top on the health agenda during the meeting with President Ruto. NHIF was represented by Chairman Eng. Michael Kamau and two Board members while MOH was represented by CS Susan Nakhuminchia, DGH Dr Patrick Amoth and DMS Dr Andrew Mulwa.
The MoU between Government (National/MOH and CoG/Counties) and the Kenya Faith Based Health Services Consortium (KFBHSC) will be updated to align to Government policies.
President Ruto commended religious organisations for their role in the provision of social services. He said the government appreciated their contribution to the provision of health and education and committed to continued partnership with them.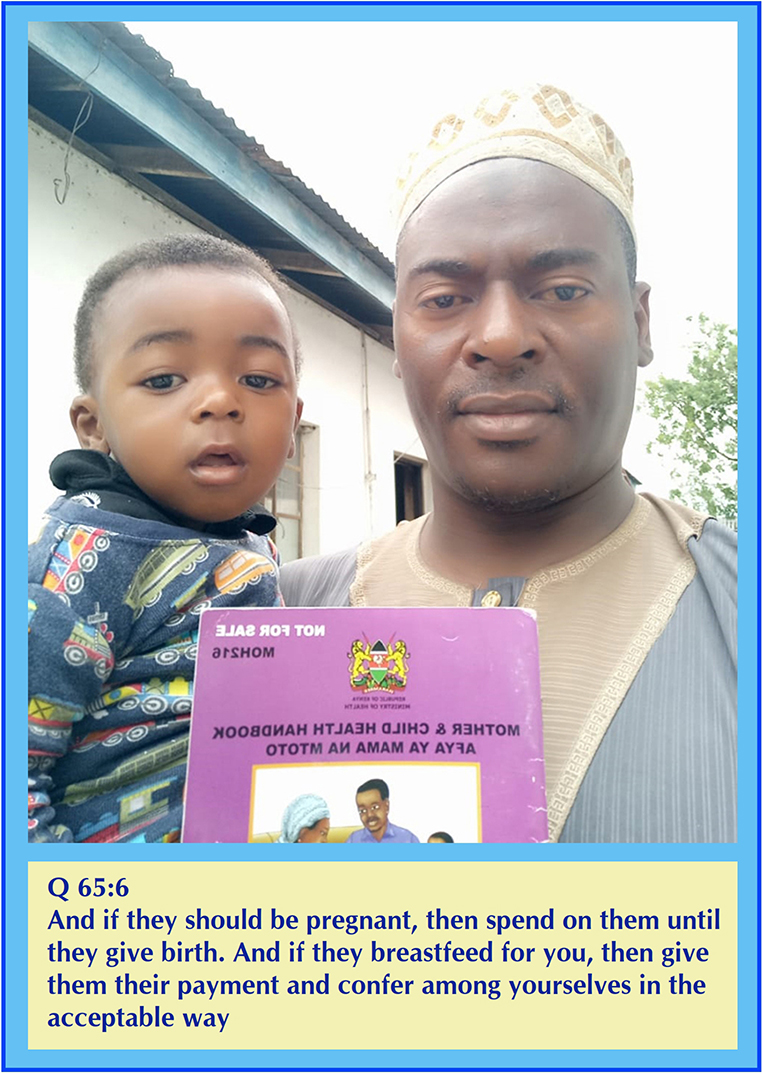 Family Planning (FP) has been defined as getting children by choice not chance. It involves making a conscious decision on family size and spacing between children. Studies show that male involvement positively influences continued use of family planning methods.
In Kenya, family planning is frequently perceived as a woman's concern, and family planning programs most often target women. Yet men have greater decision-making power over household matters including health care due to gender dynamics.
Religious leaders have been identified as influential advocates for health as they are well trusted in the communities they serve and are able to reach the smallest family units and individuals. Equipped with appropriate messages and skills, religious leaders will not only empower their communities and congregations, leading to increased uptake of health services, including family planning, but are also able to advocate with policy makers and influence key decisions.
Ustadh Rashid Osman, a religious leader from Kilifi County, was one of the 54 faith leaders from six counties in Kenya trained in family planning, gender-based violence and HIV/AIDS advocacy through the Christian Advocacy for Family Planning in Africa (CAFPA) project.
The project, funded by the Bill & Melinda Gates Foundation through Christian Connections for International Health, engaged religious leaders to advocate for community and policy maker support for family planning, gender-based violence and HIV/AIDS to drive positive policy change. CHAK implemented the project from 2013 to 2021.
Ustadh Rashid says he started off as an ordinary Imam, completely unaware of the effects of gender-based violence, unplanned families and HIV/AIDS on his community. He however got involved in advocacy when he was selected as a family planning champion by the National Council for Population and Development, a government body.
In 2017, due to demand for reliable health information in his community, he thought of forming a CBO for Imams to discuss issues around reproductive health with regard to Islam. Muslim Intervention for Health Education (MIHE) has been instrumental in bringing health messages to the community.
The faith leaders' training by the CAFPA project, gave Ustadh Rashid additional motivation to continue addressing reproductive health issues in his community. A key challenge for him, however, was getting men involved in FP and reproductive health decisions in their families. Whenever he called meetings to discuss FP and reproductive health only women showed up.
Meanwhile, Ustadh Rashid continued receiving invitations to seminars and workshops to discuss reproductive health issues in the Muslim community. He also continued attending capacity building sessions and holding community meetings in mosques. During the meetings held weekly, the community talked openly about the issues they were facing at home. It became apparent that women were suffering gender-based violence. Early pregnancy was a challenge among the youth that affected families and about which men as the family heads were very concerned. The community therefore began to actively seek solutions to these challenges.
To address the problem of male involvement, Ustadh Rashid began by speaking to men in the mosque where he served as Imam during Friday sermons and prayers. He told them that they were responsible for their households, according to Quran teachings, and needed to get involved in decisions affecting their families. After prayers, he asked the men to stay and discuss HIV/AIDS and teenage pregnancies. The men responded positively because these issues were affecting their households. During these discussions, he introduced family planning and gender-based violence which were regarded as taboo topics in the community.
Ustadh Rashid worked closely with health workers from local health facilities and other religious leaders in the CAFPA project to give the right information to his community. To reach even more mosque congregations in his locality, Ustadh Rashid structured Rabai Sub-County Imams, over who he is in charge, into four wards. He has continued to reach out to Imams in each ward with FP, HIV/AIDS and gender-based violence messages and tasks them with getting the information out to the men in their congregations. Each ward has between nine and 13 Imams. Initially, the Imams were against FP and needed to be convinced that it was allowed in Islam. Utadh Rashid held meetings with the Imams and their congregations, so the community could participate freely in the discussions.
He has also used mainstream media, mainly radio, as well as social media to advocate for FP, HIV/AIDS and gender-based violence. Through radio stations that target the Muslim community in Kilifi County, including Radio Rahma, Msenangu FM and Boss Radio, Ustadh Rashid has been able to pass FP, HIV/AIDS and gender-based violence messages and encourage men's participation.
He has formed three WhatsApp groups, two targeting Imams and one targeting football coaches to act as advocacy platforms for the health issues affecting his community. Through the WhatsApp platform, Ustadh Rashid is able to address the Imams' concerns and answer any questions they may have.
Additionally, Utadh Rashid has used Facebook Live, Facebook, Instagram and Twitter to engage his audience. His social media posts are taken positively by the younger audiences who follow him while FP concerns raised on these platforms are appropriately addressed.
Outcomes
Following the training by the CAFPA, Ustadh Rashid felt more empowered to speak about FP, HIV/AIDS and gender-based violence in his community. Additionally, by working closely with health workers from local facilities, he has also been able to reach youth and women in addition to the men.
The Imams working under him in Rabai County have been empowered to speak out on FP and reproductive health issues in their communities, including encouraging men's participation in discussing and finding solutions to the challenges facing their families.
During the men's meetings held after Friday prayers, the men agreed that FP was getting the number of children one could comfortably bring up. Further, it was agreed that according to Quran teachings, a woman needed two years to breastfeed a child while couples were advised to take an additional year to attempt conception. This added up to child spacing of three years, removing the idea that FP was not accepted in Islam.
The big question then became which FP methods were allowed in Islam apart from breastfeeding. This opened the door for discussions and it was agreed that non-permanent methods were allowed and acceptable. This view is backed by Muslim scholars whose studies and writings Ustadh Rashid constantly refers to in his teachings, in addition to supporting Quran text.
Before Kenya recorded its first case of COVID -19 infection in March 2020, we had already witnessed how the global pandemic had seriously hit countries with even more robust healthcare systems.
If there was one thing that this pandemic taught us from the onset, it was that fighting this virus was not going to be a government and health workers–only affair. Globally, citizens were already acknowledging the difficult conditions in which frontline workers were battling to save lives.
We saw people lining up the streets in these cities every evening as the day's shift came to a close. Clapping, hooting and waving as they showed appreciation to the brave healthcare workers who were at the frontlines of the fight against the pandemic. Other than reminding us about the values of humanity, these scenes served to hint to us that to win against this virus, we all had a role to play.
As we got to July 2020 and were approaching the peak of the first wave in Kenya, the country's healthcare system started to feel the brunt of the pandemic. Limited isolation spaces in government facilities, high cost of care in private facilities, which made them inaccessible to their regular clientele, and a sharp shortage of PPE and other medical equipment threatened the country's efforts to contain the spread of the virus.This pandemic brought to fore the need for government, private and faith-based healthcare providers to work together to manage the infection numbers.
Mission hospitals have over the years supplemented the country's public healthcare system through the provision of quality and affordable health services.
During this unprecedented times, these faith-based facilities have proven to be an integral part of the National and County COVID-19 pandemic emergency response infrastructure. They have set aside isolation wards, ICU beds, oxygen treatment support facilities, trained staff and have established protocols for COVID-19 screening, treatment, infection prevention and control.
This has escalated the mission hospitals' need for PPEs for frontline staff, and other medical equipment.
The current high cost of PPEs and other associated medical consumables not only makes it difficult for mission hospitals to care for COVID-19 patients, but also challenging for them to provide their other patients with the care they need in a safe environment. A majority of these facilities are located outside Nairobi and some of them, like Kijabe, Chogoria, Kikuyu and Tenwek Mission Hospitals, provide highly specialized care to patients who cannot afford to seek treatment in private health facilities because of prohibitive costs.
Unlike government health facilities which are funded by the exchequer and private hospitals, which operate on a business model, mission hospitals are essentially run as charitable institutions inspired by faith foundation and commitment to compassionate service relying on donations and the heavily subsidised fees that they charge their patients. On many occasions, these health facilities have to waive fees for the vulnerable, needy, and very poor patients.
It is for this reason that we are grateful for the donation of PPE kits worth KES 33 million made by Equity Group Foundation (EGF) and the Kenya COVID-19 Fund Board to support mission hospitals with active COVID-19 isolation units. Such donations allow us to continue offering compassionate care to all our patients at affordable costs.
While in the last few weeks we have noted a decline in COVID- 19 case positivity rates, we are not yet out of the woods. To date the country has recorded over 240,000 confirmed infections for those tested and unfortunately we have lost over 5,000 lives . Recently, while addressing the nation as the government reviewed containment measures, Health CS Mutahi Kagwe warned that Nairobi had run out of beds for COVID-19 patients. COVID-19 truly brought a strain on the health system.
With treatment and isolation spaces in public hospitals dwindling in the wake of this surge, and costs keeping many away from private facilities, mission hospitals are more likely to take on even higher numbers of new COVID-19 patients in need of hospital admission. Already, a majority of mission hospitals have designated isolation areas and units set aside to manage COVID -19.
While the donation from Equity and the Kenya COVID-19 Fund Board has gone a long way in plugging the shortfalls in the mission hospitals, we are still far off from being sufficiently equipped to handle the looming surge. This is an opportunity for more Kenyan corporates to come on board and provide the much-needed support to strengthen hospitals infrastructure and capacity for response at this critical time.
Authored by Dr. Samuel Mwenda, General Secretary, CHAK.